Since many of you are hopefully self-isolating and it can be hard to easily get fresh produce, here are some of my favorite plant-based recipes which use ingredients found in your pantry or freezer.
I love this nutty, creamy soup. It's quite easy to make and all the ingredients except the greens are likely things you have in your pantry.
Easy and homey recipe using dried lentils, frozen mixed veggies, and potatoes.
Super quick recipe using canned and frozen foods. It's also easy to adapt – we typically skip the cheese, might add veggies or use more beans instead of TVP. You can also grate potatoes as a sub for the tater tots, and salsa is a good pantry topper.
While I haven't tried this exact recipe yet, I love a good vegan mac & cheese. I've been playing around with different sauce bases and you can either go with a cashew/nut base or veggies like pumpkin, carrots, and potatoes. They're all different but pasta is always great and this recipe looks delicious although I'd probably try to add some greens.

Bean Chili
Definitely a go-to in our house for a comforting easy meal. I especially like being able to throw it all in the slow cooker and not worry about it. While I usually make my own recipe (typically with some canned tomatoes, whatever beans we have on hand, an onion, garlic, maybe also some carrots or other veggies if we have them, and spices), this recipe also looks easy and good if you need some inspo!
And to go with the chili…
I love cornbread, especially with chili. 😊
Plain is great but I like to go for a maple and jalapeno one like this.
Ben actually found this recipe a while ago and it is SO GOOD, especially with the sweet and spicy roasted seeds. I can easily down a huge bowl of this and the pumpkin flavours are lovely for a cozy winter meal.
It's an easy pantry recipe to make with canned pumpkin and subbing dried thyme.
My favourite curry dish to make. It's easy to cook in one pot and we always make a huge batch because it's even better as leftovers!
Again this is something I usually don't follow a recipe for, but this recipe seems pretty close to what I use. Serve with some rice or homemade naan for a cozy meal.

Banana Bread
While this might not be a traditional "pantry recipe" I think many of us have black bananas in our freezers. 😅
I don't have a favourite recipe to share with you, because I'm currently in the process of trying to perfect a chai-spice banana bread recipe, but there are tons available on Pinterest or if you have a great one, please leave it in the comments!
Also this pumpkin bread is on my to-make list!
I must include a chickpea recipe, since I use them all the time. They're definitely my favourite bean (pea?) to cook with. Fantastic in curries or hummus, but I also often like to make a hearty Mediterranean salad similar to this recipe with olives, artichokes, and sundried tomatoes, although I use oregano instead of thyme and add balsamic vinegar. Typically I will add some fresh spinach, tomatoes, or cucumber, (pasta is also easily added for a pasta salad) but it's also nice with just the non-perishables.

Peanut Sauce (for many things 😋)
I often make a peanut sauce similar to this recipe but without the maple syrup unless I want a sweeter flavour.
A really easy dish is a rice noodle bowl with veggies and maybe some tofu topped with the peanut sauce. I typically go for some combination of carrots, broccoli, peppers, and cucumber; it goes great with all kinds of veggies though and I've also enjoyed it as a quick meal just on some noodles or with some tofu or tempeh. It can make a delicious salad dressing if you thin it out a little more and you can also sub tahini for a sesame sauce!
While this recipe does use fresh veggies I feel like it could be fairly easily modified to omit some or swap frozen and still be delicious.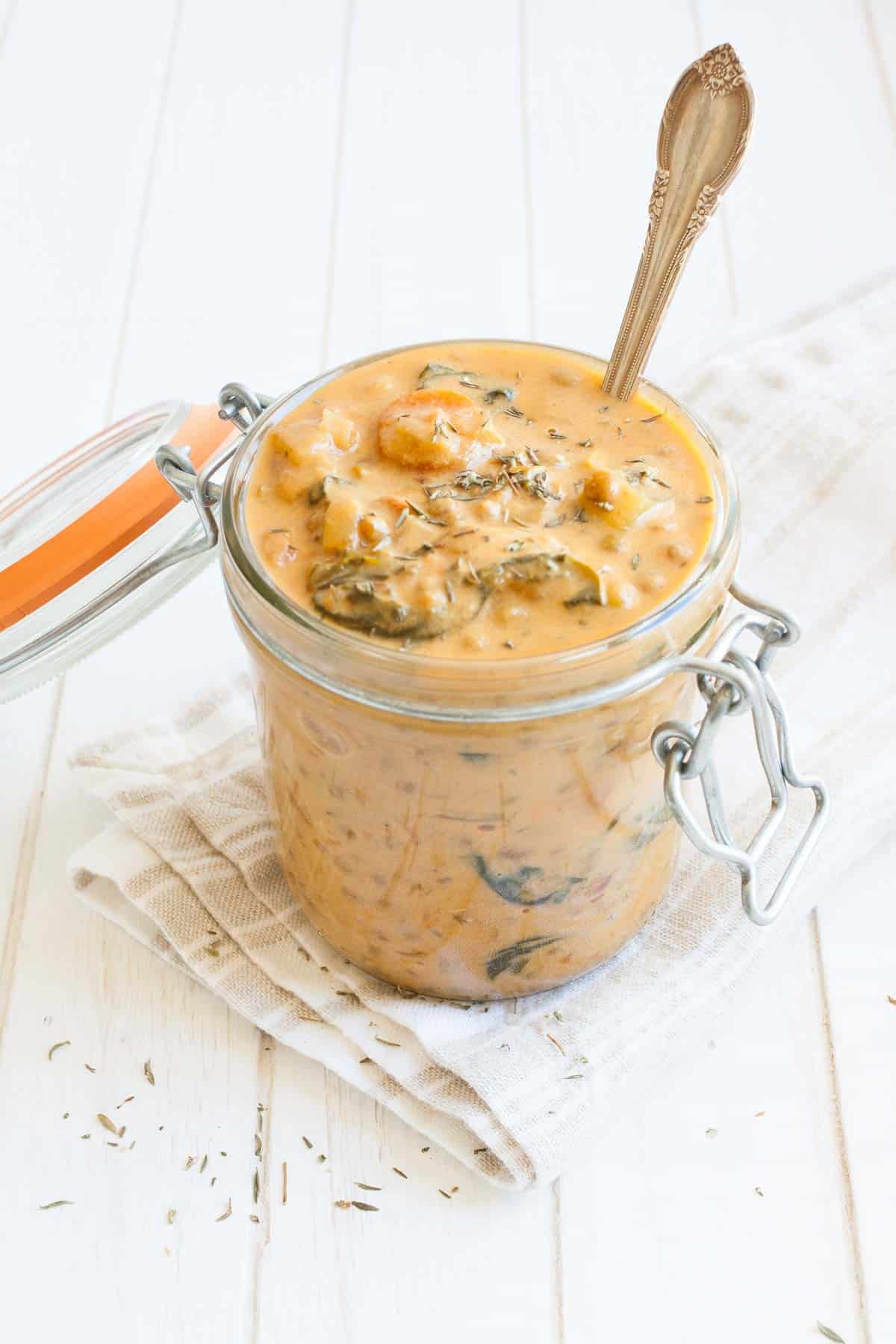 Those are some of my favourite plant-based pantry dishes and I'd love to hear yours! I'm always looking for recipe ideas!
💚