Last Updated on November 17, 2021
A wonderful way to lower the footprint of your holiday meal is making it more plant-based. While a fully vegan Christmas dinner is fantastic, if that won't work for you or your family then incorporating some more plant-based dishes can still have a significant impact.
Many classic holiday dishes can easily be vegan-ized, or there's some fantastic, new, creative ideas too. With the help of some friends, I've compiled this list of plant-based holiday dinner recipes and inspiration!
Appetizers
Plant-Based Charcuterie Board
Charcuterie boards always look beautiful and impressive, plus they're a great way to use up leftovers and extra bits of things you have around! Jen from Honestly Modern explains how to create a colorful, healthy and kid-friendly vegan charcuterie board for the holidays.
Pesto Breadstick Tree
Another easy and festive recipe! This can be made super simply with store-bought pizza dough and vegan pesto, or you can make your own, I like using this recipe for breadsticks.
To make the tree:
Roll out a rectangle smaller than your cookie sheet.
Cut a large triangle in the middle.
Cover the tree in a layer of pesto and top it with the two side rectangles turned around (you will have a seam in the middle so you can either try to pinch it together or flip the triangle over).
Then cut roughly 1 inch strips to just before the center and give the strip a few twists.
Top with a little oil and garlic salt or more pesto.
Let rise if needed according to the recipe.
Bake at 400 F for 15-20 mins until golden brown, or according to the dough instructions.
These breadsticks also go great with a simple marinara dipping sauce!
More recipe ideas

Sides
Butternut Squash and Cranberry Quinoa Salad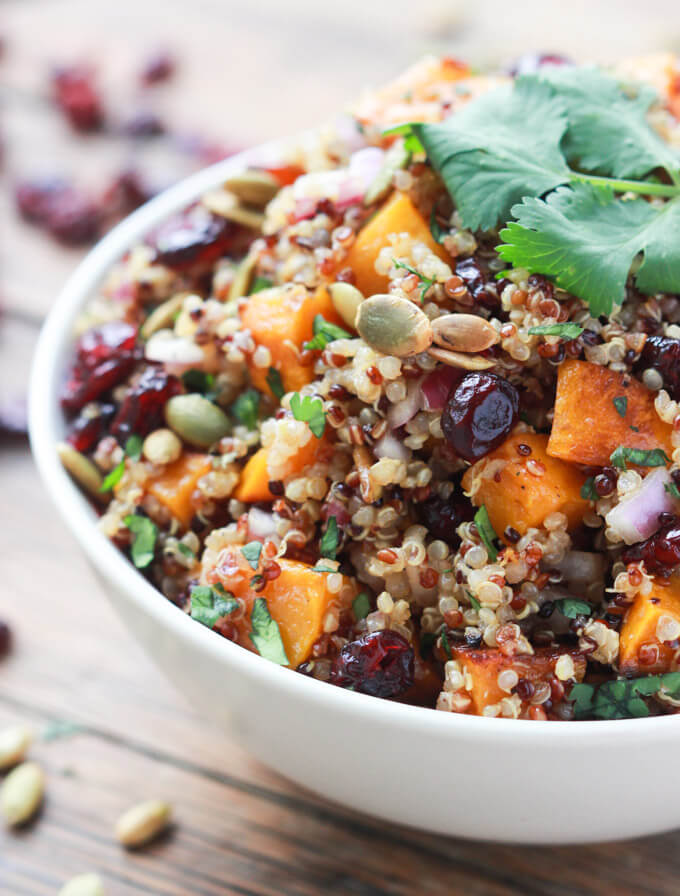 I've made this salad many times and it's always a hit! The flavours and colours make it perfect for fall or the holidays and it's not only delicious but also healthy. Check out Katya from Little Broken's recipe here.
Yams and Pineapple
This recipe comes from Stephanie over at Mama Minimalist. She says it's "a tried-and-true plant-based side that my grandmother always cooked during the holidays. The recipe makes a lot, too, so it fills a crowd and leaves leftovers for the next day."
Butter a 9×13 pan with a butter substitute.
Fill dish to the top with 4 or 5 fresh, peeled, and diced yams.
Top with the chunks of one large can pineapple chunks (reserve liquid). 
In a pan on the stove, melt 1/2 pound butter substitute, 1/2 cup brown sugar (note: For a less-sugary option, the brown sugar could be cut in half or omitted altogether), 3/4 cup honey (or maple syrup), and the reserved pineapple juice. Stir constantly.
Once completely melted and warm, pour over yams. 
Bake at 350 degrees for 30 minutes.
Creamy Pumpkin Risotto
This pumpkin risotto recipe by Liz Moody is another fall/winter favourite in our house and a lovely side for a holiday meal. The sweet and spicy roasted pepitas make this dish seriously special – don't skip them! (or even – make extra! 😋)
More recipe ideas

Mains
Puff Pastry Wrapped Lentil Loaf
I've made this recipe from It Doesn't Taste Like Chicken a few times now for the holidays and it's not only beautiful (you can even cut little holly leaves to add to the braid) but it's a filling and hearty main dish especially with a good dollop of mushroom gravy!
Mushroom, Sage & Kale Pie
This is a new recipe I've been working on and will definitely be making it for the holidays!
You'll need:
9″ vegan pie crust (store bought or make your own)
olive oil
1 large diced onion
1.5 lbs of mushrooms chopped into large pieces (I like to use a variety – cremini, chanterelle, portobello, or porcini all work nicely)
2 minced garlic cloves
2 cups chopped kale
~ 3 tbsp chopped fresh sage (about half a bunch) or 1 heaped tbsp dried sage
7 sprigs fresh thyme or 1 heaped tsp dried thyme
1 tbsp tomato paste
1 cup plant milk (I like using oat or almond)
1 tbsp flour
salt & pepper
white wine (optional)
plant-based cooking cream (optional)
Directions
Add oil to large pan (the larger the pan the easier it is to cook down the mushrooms) and soften onions.
Add mushrooms and cook until starting to brown (optional: you can also add a splash of white wine with the mushrooms).
Add garlic, kale, and herbs. Cook until kale has softened, mushrooms are deep brown and have reduced a lot in size, and most of the liquid is gone.
Add tomato paste and about half the milk. Whisk the flour with the rest of the milk until lumps are gone to create a slurry and then add to pan. Let sauce thicken a little and turn off heat.
Salt and pepper to taste.
Let filling cool a bit before adding to crust.
Optional: drizzle pie top with some plant-based cooking cream – I find this adds some contrast and makes the top look nice (I like using Earth's Own Culinary Oat Cream)
Preheat oven to 350 F and bake about 30-35 min or until golden brown (or follow crust instructions)
More recipe ideas

Desserts
Vegan Soda Cracker Cookies (aka: Christmas Crack)
Check out Kassia's recipe for super simple to make, decadent, and deliciously addictive cookies.
Chocolate Chip Cookies
The classic Santa treat! This is Jazmine's family favourite recipe that she kindly shared from her Low Waste + Plant Based E-Book.
Ingredients 
½ cup of sugar
½ cup of light brown sugar
1 cup of vegan butter
¼ cup of plant milk
1 tsp of vanilla extract
1 tsp of baking powder
2 cups of four
1 bag of dairy free chocolate chips
Directions
Preheat oven to 350
Melt butter (20-30 seconds in the microwave does the trick) 
Mix butter with both sugars
Add vanilla extract, baking powder, and non-dairy milk. Mix well
Mix in flour until you have a good dough consistency. Wooden spoons help with mixture if you do not have a mixer
Fold in chocolate chips (or sub out for pecans or walnuts!)
Bake for 10-12 minutes
Enjoy!
Easily Vegan-ize Any Baking Recipe
Many traditional baking recipes can be made vegan with simple swaps. Just sub butter with margarine/vegan butter, milk with plant-based milks, and eggs with store-bought egg replacements, flax eggs, mashed banana, or applesauce. Here is my vegan baking quick-reference guide.
More recipe ideas

Drinks
Mulled Wine
We've been making Jamie Oliver's mulled wine for over 10 years now, it's a staple drink in our house for the holidays.
More recipe ideas

My friend Kassia also reviewed vegan store-bought egg nog to see which is the best!
---

I hope these recipes give you some ideas and inspiration. Please let me know if you make them and share your favourite recipes in the comments!
💚