I love versatile clothing! Especially with a capsule wardrobe, having pieces that can be worn different ways gives you a lot more options for outfits and styling. I've found having a capsule wardrobe has helped me become a lot more creative with how I wear my clothes and playing around with styling them.
These are my favourite versatile types of garments – I think I'll always have some version of these styles in my my wardrobe. It's awesome not only how they can be dressed up or down, but also how they can be worn in different ways.
This post is in collaboration with one of my favourite brands, MATTER, and features some of their beautiful, artisan-made, versatile pieces. When designing they focus on function and timelessness so many of their pieces are adaptable and can be styled in numerous different looks.

The Jumpsuit
I love how easy it is to throw on a jumpsuit and look really put-together with minimal effort. It's a go-to piece for me when travelling because of how versatile it is. I've been able to wear it with heels to formal events and with sneakers casually. I've even been able to layer it for colder weather.
MATTER's classic jumpsuit has been a staple in my wardrobe for years and to add to it's versatility, it's even been wearable through my pregnancy so far thanks to the clever adjustable waist.

The Tee Dress
A simple tee dress is a staple in my wardrobe. I love that it can be worn casually or dressed up with accessories like a belt, shoes, and jewellery. It's light and easy to layer over, and because of the loose, simple cut it can be tied or gathered in different ways for different looks.
Here's a clip from an older video on versatile clothes of just a few different ways I wear my tee dress: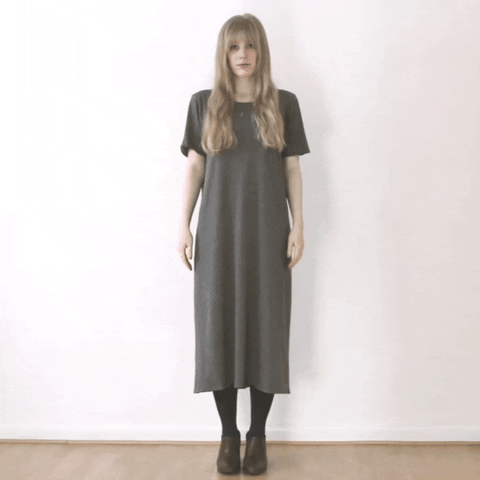 The Scarf/Wrap
Maybe the ultimate versatile piece, because not only can it be worn many different ways, but a simple rectangle of fabric can also be used as a blanket, tied into a bag, used for cover/shade, and more.
I love this printed travel wrap/scarf from MATTER and as an extra versatility bonus – it's even reversible!

The Shirt Dress
Another easy piece which can be worn as a dress, top, or layer. I love playing around with tying it up, or leaving it open.
It's also been another great "maternity friendly" piece, although it's getting pretty tight this late into my pregnancy.
MATTER also has some really beautiful shirt dresses in their artisan fabrics!

The Matching Set
Finally I got really into wearing a set of matching separates from MATTER before I was pregnant and can't wait to pull them out of my closet again. You can get a jumpsuit look, but also wear the pieces separately. I even have a video about different ways you can wear a matching set!
I'd love to know what your favourite versatile garment is!
You can also check out the video I did with MATTER on cultural appreciation vs. appropriation and check out their artisan-made garments. They're a brand doing amazing work and making beautiful, functional clothes that I'm really proud to be an ambassador for. 😊
💚